Nature Guides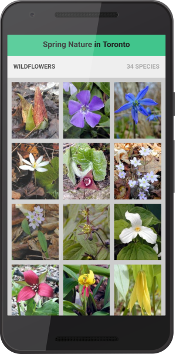 One of our goals at Hopscotch has been to give casual visitors to our parks and natural areas, really useful field guides. The challenge is two-fold: most visitors have little nature knowledge or resources, and most parks have no facilities. The smartphone has allowed us to get closer to solving the dilemma; we have created our mobile nature guides.
Our mobile nature guides combine an interactive trail map with multimedia plant and animal identification field guide. The trail map is customized to the park trail and displays geolocation of user, and hotspots for points of interest which can link to profile pages. The field guide content is customized to the park and season, so users get just the information they need. The mobile apps work on anything and anywhere. They can be distributed online, and offline from the park trailhead.
Features
Accessibility.

The mobile guides can be distributed as a stand-alone app online, and/or offline from a wireless access point at the trailhead, or any building on-site. The guides work anywhere, especially useful in remote sites.

Reliability.

The field guides are based on our own extensive database of natural history content, compiled from field work at sites all over the GTA. We can generate a field guide for any season and any natural area in the GTA.

Usability.

The stand-alone app is designed to work on any modern operating system and browser.

Functionality.

The guides are "light" and download quickly. Navigation is easy and intuitive; starting from the thumbnail navigation page. The compact content design means you don't get lost.

Scalability.

Our content management system allows us to automate and streamline most of the guide creation so that we can scale up to as many sites and guides as needed.

Flexibility.

The guides can be customized by the client. The base trail map can be customized with the addition of points of interest and links to profile pages. The field guide species composition can be customized to include special-interest species. Updates and small changes from the content database can be made quickly and cost-effectively without compromising the overall guide.
In summer 2013 we partnered with Toronto Region Conservation Authority (TRCA) to develop a mobile field guide to the common birds, plants and insects of Tommy Thompson Park in Toronto. The guide was distributed to visitors on-site from a portable wireless access point.