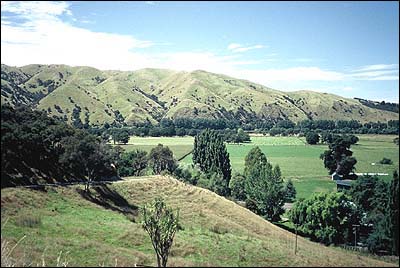 Approaching Morison's Bush
Morison's Bush is named for the original settlers who farmed here since the late 1800s. This locality provides some excellent birdwatching for both forest species in the remnant bush, and for river birds in the adjacent Ruamahanga River. The bush has been fenced and is in quite good condition. The main tree species are totara, rimu and kowhai.
Birds to look for:
In the bush, look for Grey Warbler, Pied Fantail, Tui and Silvereye. On the riverbed, look for Black-fronted Dotterel, Banded Dotterel and Pied Stilt.
How to get there
From Highway 2 take the Martinborough Road just at the southern end of Greytown. About 3.4 kms on, at the Electricity Substation, the road veers left and a further 2 kms and you will pass the historic Bush House on your left. One kilometre on you drive into the gravel road marked Glenmorvan Road, and a further 2 kms you come to a sign and turnoff for Morison's Bush Picnic and Camping Area. Follow this gravel road through farmland to the gate leading to the Ruamahanga river and camp ground.
Tourism
This is a popular picnic, camping, and trout-fishing spot. If you intend to camp here permission is required from the property owner Mr. Bryan Tucker, whose house you pass on the left side of the gravel road about 3 kms short of the river. Phone: 025 570 616.
There are two historic houses here. Both are privately-owned and not open to the public, but they can be appreciated from the road. The original Morison homestead, "Glenmorvan", can be seen through the trees on your right as you descend the last part of the gravel road before you get to the flats adjacent to the river. It dates from around 1880. Bush House, which you pass about 5 kms from Greytown, was originally run as an Inn by early members of the Morison family.
For more tourist information on this region, please check the Tourism Wairarapa Web site (www.wairarapanz.com).